7THE ONLY OFFICIAL WEBSITE OF VENOM - THE ORIGINAL INVENTORS AND FOUNDERS OF BLACK METAL








IMPORTANT
This webpage only advertises Concerts for the classic band VENOM,
featuring the epic line-up of; CRONOS, RAGE & DANTE.

~ Next Concert Dates ~

7 August 2020
BRUTAL ASSAULT 25
Fortress Jovefov ~ Czech Republic

31 July / 1 August 2020
~ awaiting exact date confirmation - tbc ~
WACKEN FESTIVAL
Haupstrasse 47, 24869 Wacken ~ Germany

10 April 2020
INFERNO METAL FESTIVAL
Rockefeller Music Hall, Oslo ~ Norway

7 - 11 January 2020
70,000 TONS OF METAL CRUISE
#ROUNDX
Miami, USA / Cozumel, Mexico ~ International Waters


"FINAL ANNOUNCEMENT"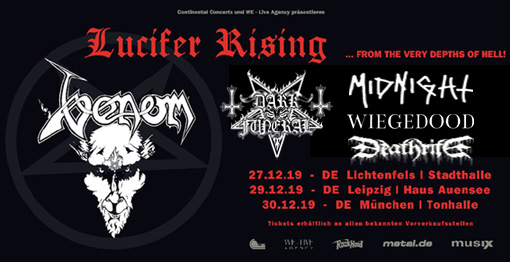 LUCIFER RISING FESTIVAL

Supporting Bands:
DARK FUNERAL + MIDNIGHT + WIEGEDOOD + DEATHRITE
The brand new indoor touring festival reveals the darkest & most evil live package to shatter
Germany's stages right before the end of 2019. Lay down your souls to the gods Rock n Roll!
Check out the main website for more information plus ticketing outlets etc


"CONCERTS IN DAMNATION"
~ THE VENOM CONCERTS BURNING IN HELLFIRE BELOW ~

"A massive Hell Yeah to all our mighty Legions who laid down their souls"
"We Will Return" !!!!

3 August 2019
SKOGSROJET FESTIVAL
Rejmyre Finspang ~ Sweden

6 July 2019
ROCK FEST BARCELONA
Santa Coloma de Gramenet ~ Spain

14 June 2019
MONTEBELLO ROCK 2019
Montebello Marina, Quebec ~ Canada


7 December 2018
RUHRPOTT METAL MEETING
Turbinenhalle Oberhausen ~ Germany

6 October 2018
TECATE MEXICO METAL FEST
Monterrey ~ Mexico

7 September 2018
MEH SUFF! METAL FESTIVAL
Huttikon ~ Switzerland

10 August 2018
PARTY.SAN METAL OPEN AIR
Schlotheim ~ Germany

13 July 2018
GEFLE METAL FESTIVAL
Gasklockorna Gavle ~ Sweden


16 December 2017
EINDHOVEN METAL MEETING
Effenaar, Eindhoven ~ Holland

17 to 22 October 2017
SOUTH AMERICAN TOUR
17 - Lima ~ Peru
19 - Buenos Aires ~ Argentina
21 - Santiago ~ Chile
22 - Sao Paulo ~ Brazil

5 & 6 October 2017
GALAXY 'ROCK THE BOAT'
Stockholm ~ Sweden

9 September 2017
FALL OF SUMMER FESTIVAL
Da Vaires Torcy ~ France

19 August 2017
AGGLUTINATION OPEN AIR
Chiaromonte, Bari (PZ) ~ Italy

12 August 2017
ALCATRAZ FESTIVAL
Kortrijk Courtrai ~ Belgium

5 August 2017
VOA FESTIVAL
Quinta da Marialva, Corroios ~ Portugal

13 July 2017
BANG YOUR HEAD FESTIVAL
Messegelande, Balingen ~ Germany

10 June 2017
SWEDEN ROCK FESTIVAL
SOLVESBORG ~ SWEDEN


3 September 2016
MEXICO METAL FEST
Cintermex ~ Monterrey

2 September 2016
MEXICO CITY
Carpa Astros ~ Mexico

13 August 2016
LEYENDAS DEL ROCK XI
Alicante ~ Spain

12 August 2016
BLOODSTOCK OPEN AIR
Catton Park, Derbyshire ~ UK

25 June 2016
KILKIM ZAIBU FESTIVAL
Varniai ~ Lithuania

4 June 2016
PRIMAVERA SOUND FESTIVAL
Barcelona ~ Spain

29 May 2016
MARYLAND DEATHFEST XIV
Blatimore, MD ~ USA
~ VENOM'S ONLY US SHOW IN 2016 ~


19 December 2015
BLACK XMAS FESTIVAL
Norrkopng ~ Sweden

28 November 2015
FESTIVAL DEL DIABLO II
Bogota ~ Colombia
~ VENOM'S ONLY SA SHOW IN 2015 ~

8 November 2015
FUN FUN FUN FEST
Austin Texas ~ USA
~ VENOM'S ONLY US SHOW IN 2015 ~

15 August 2015
SUMMER BREEZE FESTIVAL
Dinkelsbuhl ~ Germany

9 August 2015
ALCATRAZ FESTIVAL
Kortrijk ~ Belgium

8 August 2015
VAGOS OPEN AIR
Quinta Do Ega ~ Portugal

25 July 2015
ROCKFEST BARCELONA
Barcelona ~ Spain

20 June 2015
HELLFEST
Clisson ~ France

19 June 2015
TONS OF ROCK FESTIVAL
Fredriksten Festning, Halden ~ Norway

6 June 2015
FORTAROCK FESTIVAL
Gofferipark Nijmegen ~ Holland

22 May 2015
ROCKHARD FESTIVAL
Ampitheater Gelsenkirchen ~ Germany

22 to 26 January 2015
70,000 TONS OF METAL CRUISE
MIAMI USA / JAMAICA ~ International Waters
-( Show 1: 23-Jan-15 ~ Show 2: 25-Jan-15 )-
~ NEW ALBUM LAUNCH WORLD PREMIERE, CLASSIC TRAX SET & JAM SESSION ~


25 October 2014
HELL & HEAVEN METAL FEST
Curva 4 Autodromo ~ Mexico

12 October 2014
MANIZALES GRITA ROCK
Expoferias, Manizales ~ Colombia

5 September 2014
FALL OF SUMMER FESTIVAL
Base De Loisirs De Torcy ~ France

9 August 2014
FAUST EXTREME FESTIVAL V
The Jungle - Cascina Pisa ~ Italy

6 August 2014
BRUTAL ASSAULT FESTIVAL 19
Fortress Josefov ~ Czech Republic

21 June 2014
AMNESIA ROCKFEST (9th Edition)
Montebello Marina, Quebec ~ Canada


31 August 2013
MASTERS @ ROCK FESTIVAL
Vredelaan. 8820 Torhout ~ Belgium

10 August 2013
PARTY.SAN ~ METAL OPEN AIR
Schlotheim. Flugplatz Obermehler ~ Germany

9 August 2013
LEYENDAS DEL ROCK FESTIVAL (VIII)
Polideportivo Municipal De Villena, Alicante ~ Spain

20 July 2013
HAMMER OPEN AIR METAL FESTIVAL
Mannin Navetta. Lieto ~ Finland

26 May 2013
MARYLAND DEATHFEST XI
Baltimore, MD ~ USA


29 September 2012
NOCTIS V - METAL FESTIVAL
Alberta. Calgary ~ Canada

13 July 2012
BANG YOUR HEAD FESTIVAL
Messegelände. Balingene ~ Germany

5 July 2012
GETAWAY ROCK FESTIVAL
Gavle. Gasklockorna ~ Sweden

23 to 27 January 2012
70,000 TONS OF METAL CRUISE
MIAMI USA / CAYMEN ISLANDS ~ International Waters
-( Show 1: 24-Jan-12 ~ Show 2: 26-Jan-12 )-


26 November 2011
XMAS METAL FEST
Lichtenfels ~ Germany

12 November 2011
ARSENELE ROMANA / CAROL PARK
Bucharest ~ Romania

30 April 2011
SWR METALFEST XIV
Barroselas ~ Portugal


3 September 2010
GLOBAL EAST ROCK FESTIVAL
Kiev ~ Ukraine

27 August 2010
HOLE IN THE SKY FEST
Bergen ~ Norway

8 July 2010
ROCK WEEKEND FESTIVAL
Soderhamn ~ Sweden

3 July 2010
WITH FULL FORCE FESTIVAL
Lobnitz ~ Germany

2 July 2010
BASINFIRE FESTIVAL
Spaline Porici ~ Czech Republic

26 June 2010
NUMMIROCK FESTIVAL
Nummijarvi ~ Finland

24 June 2010
CLUB TOCHKA
Moscow ~ Russia

23 June 2010
CLUB KWADRAT
Krakow ~ Poland

30 May 2010
HR. BOTEV SPORTS HALL
Sofia ~ Bulgaria


12 December 2009
THE VICTORIA HALL
Sao Paulo ~ Brazil

10 December 2009
TEATRO FLORES
Buenos Aires ~ Argentina

9 December 2009
TEATRO CAUPOLICAN
Santiago ~ Chile

6 December 2009
TEATRO METROPOL
Bogota ~ Colombia

5 December 2009
CIRCO VOLADOR
Mexico DF ~ Mexico

Contact Email for Venom Concert Bookings:
please insert 'concert bookings' in the subject box