THE ONLY OFFICIAL WEBSITE OF VENOM - THE ORIGINAL INVENTORS AND FOUNDERS OF BLACK METAL









......And Then There Were Three
"Come On, Turn It Up!"
The release date: 11th June 2021 will reveal another Super7 collaboration with heavy
metal pioneers Venom, continuing with the Bloodlust 3.75" ReAction Figure.
This third figure release is a tribute to the band's 1982 classic single:
Bloodlust c/w: In Nomine Satanas
The Bloodlust figure is injection molded blood red to give it a truly coagulated
blood effect crimson look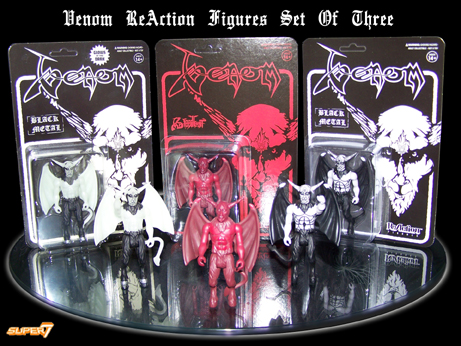 New Hell Year [fingers inverted crossed]
Greetings to our loyal Legions around the world, just a few words of optimism to
thank you all for your eternal support, & to hope you stay strong & safe.
After a dreadful 2020 for everyone, we are hoping things will begin to get back to
some sort of normal soon, so keep an eye on our "concerts" page as well as our
social media sites, for news of upcoming events.
Be aware that some advertised shows may get cancelled last minute, although
others may be possible with short notice, thank you.
* Update: Cronos has just announced: "we have just been sadly informed that Inferno
Festival in April 2021 will not be going ahead this year unfortunately, although Venom
have agreed to try for a third time lucky in 2022.
[edit] Unfortunately the other shows in Germany at Wacken & the Czech Republic at
Brutal Assault, were also cancelled & rescheduled for 2022.
We hope to see you all in the near future, Hell Yeah !!!"




R.I.P. Eddy Van Halen
The world of Rock & Metal is in mourning today, as fans of the band Van Halen learn
of the passing of guitar legend Eddy Van Halen on 6 October 2020
Van Halen were a massive influence of the young members of Venom, and so
they would like to offer their condolences to Eddy's family & friends during
this sad time. Rock On Eddy.



WE WILL RETURN
As the world goes into lock down because of the Coronavirus [Covid-19] pandemic,
live events have been forced to cancel as governments close borders & enforce travel
bans around the world.
So as the promoters of the scheduled summer festivals have all now cancelled their
2020 events, Venom's management are in discussions to reschedule some of the
shows in 2021. Check out the festival websites also for further news & updates.



VENOM 'GLOW IN DARK' FIGURE
Super7 Toys have released the second in the series of Venom Action Figures.
the: GLOW IN THE DARK Venom Black Metal [Staan] demonic figure.
- Available from 30 September 2020 -
"Super7 is honored to add heavy metal pioneers Venom to our 3.75" ReAction Figures music
collection! This limited edition version of the Black Metal demon is GLOW-IN-THE-DARK.
It comes on a matching GITD cardback that commemorates the influential 1982 album".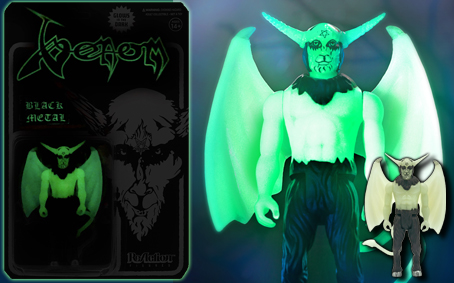 VENOM ACTION FIGURE
Venom are working in conjunction with Super7 Toys to create a new action figure,
the long awaited: Venom Black Metal [Staan] demonic figure.
Cronos commented: "I was approached by Brian Lew of Super7 about the idea of the
action figure, I was able to be hands on with the project which was exciting, Super7 are
really professional & take care with the fine details which is important. I know the fans
are gonna love the Staan figure, I'm really happy with the way he has turned out".
Keep an eye on the Venom & Super7 websites for updates and release news.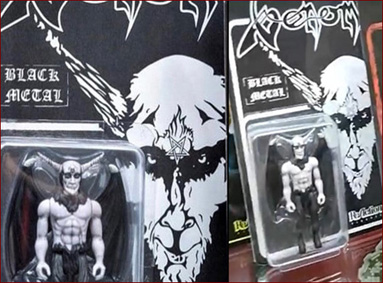 SONS OF SATAN DEMOS
Venom will release the album 'Sons Of Satan' on the 29th May 2020.
These are the legendary early demos previously released as part of the boxset
'In Nomine Satanas', now released on splatter 2LP & CD on BMG.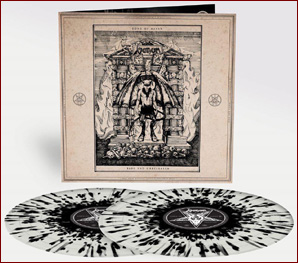 FAREWELL TO OUR GREAT PAL
The members of Venom wish to pay our deepest respects to our former
crew mate Martin [Freddy] Sommers, who at 52 sadly passed away on
Sunday 5th January 2020.
He was a truly great friend who brought a lot of joy & laughter to everyone
he met. Our sympathetic condolences go to his grieving family & friends
on this very sad occasion. RIP mate.



STICKING WITH TAPES
Spinefarm Records / UMG have now released the 'Storm The Gates' album
& the '100 Miles To Hell' EP on cassette due to increasing demand.
Not only has the vinyl market exploded over the last decade, but also an
new found appetite for cassettes are now on the increase by the fans.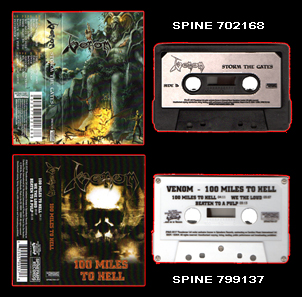 TOO LIVE FOR THE CROWD
Announcements for the 2020 Live Venom shows are underway.
Starting the year with the bands 3rd visit to '70,000 Tons Of Metal' from 7th to 11th
January, then a headline show at the infernal 'Inferno Metal Festival' on 10th April.
On 16 May Venom will appear at the 'Into The Abyss' festival in Poland, then on
5th July at the 'Rock The Castle' festival in Italy.
August delivers a hat-trick with another visit to the infamous 'WOA Wacken Festival',
then a return show at the 25th anniversary of the awesome 'Brutal Assault' festival
in the Czech Republic on 7th August 2020, with a fantastic show in Holland on the
9th August at the 'Into The Grave' festival.
Keep checking the concerts page for updates at the link below




LUCIFER RISING FESTIVAL
Venom are proud to announce their brand new indoor touring festival entitled: "LUCIFER RISING"
a new event made to reveal the darkest & most evil live package to shatter Germany's stages
in the final closing moments before the very end of 2019.
Continental-concerts.de are powered by: Rock Hard, Musix, & Metal.de
to reveal this ground breaking event:
VENOM – the headliner of the festival, who started it all in the 1970's, hailed as
the forefathers of Black Metal & lead by the mighty Cronos.
DARK FUNERAL - carrying the true Swedish Black Metal spirit into modern times.
MIDNIGHT - delivering an unholy alliance of US Trash, Speed & Black Metal.
WIEGEDOOD - a fresh face to Black Metal from Belgium, intense & extreme..
DEATHRITE - death warlords from Germany, conjuring Black Metal for the apocalypse.
Get ready to Lay down your souls to the gods Rock n' Roll all ye Metalheads!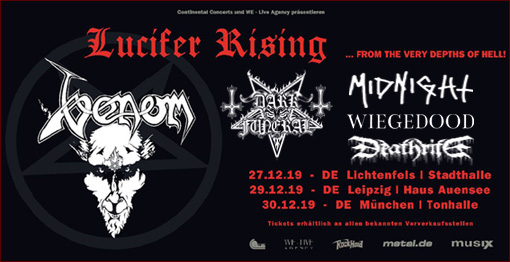 NEW LYRIC VIDEO ON VEVO
Venom release a fantastic lyric video for their new song: 'Bring Out Your Dead' on;
Tuesday 19 April 2019,
The song is from the new Venom album; 'Storm The Gates' released by Spinefarm
Records on; 14 December 2018. [*see below for more information]
The video will appear on the official Venom VEVO YouTube Channel here:



40 YEARS IN SODOM
Venom proudly announce the release of their long awaited 40th Anniversary Deluxe Box
Set on: 31 May 2019 via BMG entitled : 'In Nomine Satanas - 40 Years In Sodom'.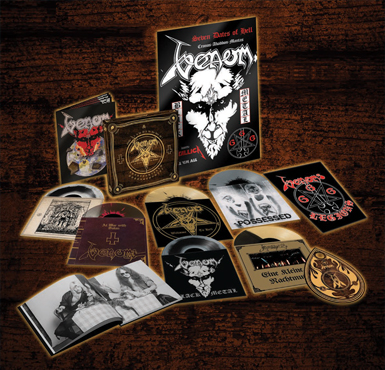 STG PICTURE DISC IN APRIL
We've just received confirmation from Spinefarm Records of the official picture disc
release of the 'Storm The Gates' album on; 19th April 2019.
Check out the official label website [below] for pre ordering information.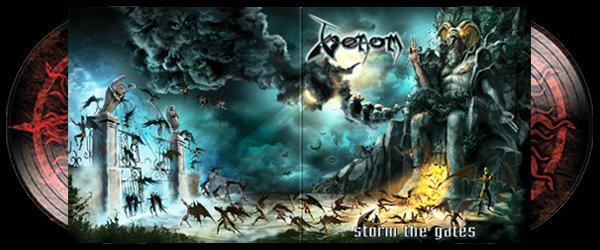 KEITH FLINT R.I.P.
We heard the sad news today of the passing of Legend Keith Flint of the band
The Prodigy, Our condolences go out to his friends and family.
Cronos commented; Keith was a true inspiration to us all. Our paths only crossed
briefly, but he was a proper friendly bloke with a great sense of humour.
This sad news is shocking, he will be missed by us all, RIP mate.




YO HO HO MUTHA FUCKAZ
Tis the season to be Venomous, tra la fuckin laa!!!
Yes Indeed, the new Venom Xmas Jumper Effect Sweatshirt is finally here.
Brighten up the festive period with this classic piece of attire, and have
a jolly olde Venomous Black Fucking Xmas, Hell Yeah!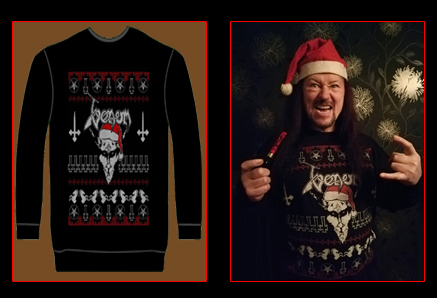 * Note: Xmas Jumper Sold Out ~ Other Merch Available



VENOM ALBUM PRE-ORDER
Legions can now pre-order the new Venom album via the 'Universal Music Store' website.
Also available: vinyl, tee shirts, hoodies, sweatshirts, beanies & bundles etc.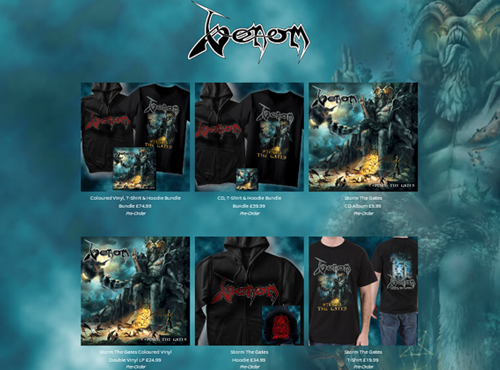 Visit the store website via the link below for more information.



NEW VENOM ALBUM DATE CONFIRMED
The new Venom album will be released on: 14th December 2018.
STORM THE GATES
The album will be available through; Spinefarm Records / UMG [Spine702162]
Containing 13 new songs released on CD & Download formats.
~( Vinyl Albums & Cassette formats becoming available in early 2019 )~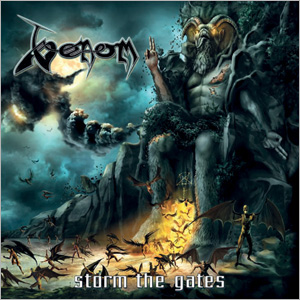 BRING OUT YOUR DEAD
NOTORIOUS
I DARK LORD
100 MILES TO HELL
DARK NIGHT [Of The Soul]
BEATEN TO A PULP
DESTROYER
THE MIGHTY HAVE FALLEN
OVER MY DEAD BODY
SUFFERING DICTATES
WE THE LOUD
IMMORTAL
STORM THE GATES



MEXICO - VENOM UPDATE
We are happy to announce that Venom will now be appearing live at the
Tecate Metal Fest in Monterrey Mexico on 6 October 2018.
The management & promoters have been working around the clock to find
a way to address the issues that unexpectedly arose, putting the concert
at risk, although a solution has finally been found to everyone's satisfaction.
We would like to apologise for any inconvenience, & hope the fans who were
planning to travel to the event can still make their journey, & the fans who
already bought tickets enjoy a great show.



NEW STORMING STUDIO ALBUM RELEASE
The new Venom Album is confirmed for release at the end of 2018
Entitled: STORM THE GATES, the new album will be released in December 2018
by Spinefarm Records / UMG in CD Format, with other formats of Vinyl & also
Cassette coming out in the new year.
Cronos quoted: "Get ready for another killer album, packed full of awesome riffs &
screaming mayhem. We've been hard at work for over 3 years to make sure this
new release raises the bar, to deliver a demonic mix of old & new. I'm hoping to
talk the label into a xmas period release date, yo fucking ho, hell yeah.
Get ready to Lay Down Your Souls Legions!!!".
[also coming in 2019 - 40th anniversary boxset on BMG - dates to be confirmed]



MEXICAN RETURN SHOW
Venom have confirmed they will be returning to Mexico on; 6 October 2018, where
they will again be headlining the 'Tecate Mexico Metal Fest' for the second time.
"We had an amazing time in Mexico last time we played there" said Rage. "We can't
wait to return with a killer show for the hardcore Mexican Legions".



ITALY FESTIVAL CANCELLED
The promoter of the Colony Summer Festival in Italy has released a statement to
announce that this years festival has unfortunately been cancelled.
Venom are very disappointed and were looking forward to returning to Italy, and hope
they can organise another show for their Italian Legions soon.



THE JACKAL PLAYS DANTE
Dante is still undergoing treatment for his injury from May, and with a recent stay in
hospital following his operation, the band were nearly forced to cancel the rest of their
upcoming shows for 2018.
Fortunately Dante's tech [The Jackal] offered to save the shows for the Legions, so
Venom could headline the Gefle Metal Festival in Sweden on Friday 13th July.
The show was fantastic and the Legions gave him a warm welcome.
The doctors have not given an exact date as to when Dante can begin playing again,
so The Jackal will be standing in for the upcoming shows.



VINNIE PAUL ABBOTT R.I.P.
The sad news that Vinnie Paul Abbott has passed away, has just been announced
by his family. They have asked that their privacy be respected during this time.
Cronos said: "Vinnie was an inspiration and a true gentleman, a great friend who will
be missed by many. Condolences to his family and friends".



VENOM CANCEL CANADA 2018
Venom's management have released a statement announcing that Venom will
not be playing live on 14 June 2018 at this years Amnesia Rockfest in Montebello
Canada, as Dante has suffered injuries after an accident.
He is currently receiving treatment and will be undergoing physiotherapy over the
coming weeks. We all hope this will not affect Venom's other summer festivals,
and are all wishing him a speedy recovery.
Venom wish to apologise to their fans and hope they are not too disappointed.
We will update this news page when we receive any further information.



LEAVE ME IN GERMANY
Germany will see the second coming of Venom in 2018, as the band have just
announced that they will be headlining this years 'Ruhrpott Metal Meeting' on:
7 December 2018.
Get ready for another glorious Black Xmas of metal festivities.



ITALY FOR SATAN
After Venom played a long awaited Italian concert at the 'Agglutination Festival' in
August 2017, the band promised their hardcore Italian Legions they would return,
as the response was absolutely fantastic.
So true to their word, Venom have now announced they will be headlining the
'Colony Summer Fest' in Brescia Milan on 21 July 2018. Hell Yeah!



STRAIGHT TO SWITZERLAND
Further to the news of the Venom shows for 2018, is the fantastic announcement
of a return to Switzerland after an incredible 34 years. The band were last seen live
in the country on their 7th Date Of Hell Tour back in 1984, so the band are overjoyed
at the news they will be headlining the 'Meh Suff! Festival' on: 7 September 2018,
which will be a truly historic event.



LIVE & DANGEROUS
Venom have announced the first of their confirmed headline shows for 2018,
The Swedish Gefle Metal Festival on: 13 July 2018, and also the German Party.San
Metal Open Air on: 10 August 2018, with pre-production already underway for a new
special stage show.




AIRPORTS ISSUES & LEGIONS UNITE
Venom's Management are asking fans not to travel to any airports to get autographs or
photos, due to advice from airport officials about increased security measures.
Venom & their crew were rushed through security at Schiphol Airport in Amsterdam recently,
when shots were fired by Dutch Police at a suspected terrorist.
The band also witnessed some suspicious behaviour recently in Sao Paulo Airport in Brazil,
as a few individuals posing as fans became disruptive as the band were distracted signing
autographs, & then tried to steal some of the bands equipment cases,
A short section of video was later posted online by the apparent fake fans, in which they
complained the band refused autographs or photos, although Venom's Legions quickly
responded to expose & ridicule the individuals as frauds, & showed a photo the fake fans
had also posted online, happily posing with the band at the airport :) doh?
The promoter contacted the airport for copies of the cctv footage, & airport officials said the
individuals are known for targeting celebrities & causing disruptions, & will now be banned
from loitering in the airport in the future.



WHOLE LOTTA LEGEND
Rock Legend 'Malcolm Young' of AC/DC has died aged 64.
Mal was one of the co-founders of AC/DC, stated Cronos, an amazing songwriter &
visionary. AC/DC were a massive influence on my early career, he will be missed
by all but his legacy will endure forever.



NEW EP RELEASE
Venom release a brand new deadly 3 Track EP on Vinyl & Cassette formats.
(also with additional; T/Shirt bundles & Poster)
* Release Date: 22 December 2017
~ available on CD in early 2018 ~
Side A: 100 MILES TO HELL
Side B: WE THE LOUD & BEATEN TO A PULP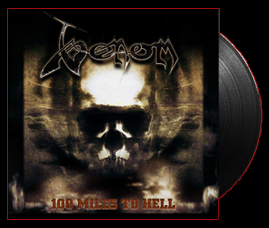 Product Codes: SPINE799135 - Vinyl / SPINE799137 - Cassette
Check Out: UMG / Spinefarm Websites for pre-order information at:
"Lay Down Your Soul To Sell"



SOUTH AMERICA ~ OCTOBER 2017
Venom have finally confirmed four shows in South America this coming October.
The concerts dates and countries confirmed are:
17 Oct - Lima / Peru @ CC Festiva
19 Oct - Buenos Aires / Argentina @ Teatro Flores
21 Oct - Santiago / Chile @ Teatro Teleton
22 Oct - Sao Paulo / Brazil @ Carioca Club
The dates have now been confirmed, so get ready for the mayhem to begin.
Cronos commented on the new street art on social media; "it's great to see the
dedicated Legions 'spreading the message far'...... we will see you all soon!!!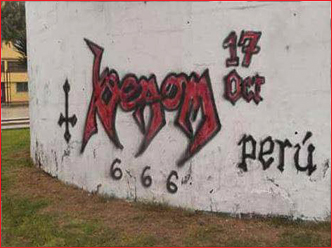 !!! LIVE 2017 ~ UPDATE !!!
Great news about other shows that have been added to this years live events.
On 9 September Venom will headline the 'Fall Of Summer' festival in Torcy, France.
This will be the bands second time to headline this fantastic festival, and with an
awesome pyro show, this is set to be another truly awesome show.
Before the end of the year, as an Xmas treat to the mighty Legions of Helland on:
16 December Venom will be headlining the 'Eindhoven Metal Meeting', which
is set to be an evening of festive mayhem and frivolity.



MORE LIVE NEWS IN 2017
There's more great festival announcements for 2017, plus some other surprises.
Venom will again explode onto the mighty stage of the 'Bang Your Head' festival on:
13 July 2017 in Germany, bringing a great show full of Pyros and a new set list.
August brings a hat trick of delights, as Venom announce they will be playing at the
'VOA' festival in Portugal on: 5 August.
Belgium gets ready for the return of Venom on: 12 August, when the band again
appear live at the 'Alcatraz' festival bringing their explosive live show.
On 19 August, Venom will complete their run, as the band will be blasting their way
through Italy appearing at the 'Agglutination' festival.
In September the band go back in the studio, to continue work on their new album.
Then on 5 & 6 of October, Venom will play at the 'Galaxy ~ Rock The Boat' event,
which travels from Sweden to Finland and return.



SWEDEN'S BLACK ROCK
There's exciting news for Venom's Swedish Legions today, as it has now been
announced that Venom will return to the Sweden Rock Festival in 2017.
Venom first appeared at SRF in 2006, which led to other offers for the band to
headline other Swedish festivals in the years that followed.
So now 11 years since their first appearance, Venom are set to return with a
killer show on: Saturday 10 June 2017.




STUDIO / EP NEWS & ALBUM UPDATE
2016 has proved to be a very productive year for Venom, combining playing a
select number of key shows, and also working in the studio writing / recording
new songs for their next album release.
The new Venom songs are a powerful selection of Black Metal style classics,
which as a treat to the fans, the band and label have decided to release an EP
ahead of the album release by the spring of 2017,
The EP will be released on vinyl by Spinefarm Records / UMG, and
will feature 3 brand new songs. "The songs have still not been decided", said
Cronos, "so we've suggested to the label that we put 10 new song titles in a hat,
thus leaving the choices in the lap of the gods".



MEXICO BECKONS
In anticipation of Venom's arrival in Mexico, the fans have taken matters into
their own hands to 'spread the message far', with some awesome urban street
art, designed to advertise Venom's show in Mexico City on: 2 September 2016,
~ see concerts page for more details ~
Cronos was amazed when he saw the street art, saying; "what
better way can your dedicated followers let you know that they are eager to see
the band again, and how welcome you are in their country, max respect".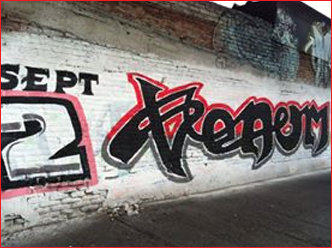 STUDIO UPDATE
Venom are spending a lot of 2016 in the studio, both rehearsing new set lists for their
festival dates, and writing, recording new songs for their follow up album, to last years
award winning album; 'From The Very Depths', and the band are now in talks with the
label, about a possible early 2017 three tracks EP prior to the new album release.
"The new songs are sounding amazing"; commented Rage. "We been writing with the
same techniques as the last two albums, where we all introduce our ideas, and then
see how the band as a whole interpret the ebb and flow of the tunes.
I can't wait to play these killer new songs live".
No definite release dates have been announced yet, but watch the news section for
updates as soon as we receive them.



MEXICAN STANDOFF
Venom have now confirmed that they will be playing two live shows back-to-back in
Mexico this coming September 2016.
On Friday 2nd September 2016, Venom will play a headline show in Mexico City, and
then on Saturday 3rd September 2016, Venom will appear at 'Monterrey 2016', which
is the first edition of this event in Mexico. Venom are eager to return to Mexico to play
again for their hardcore Mexican Legions.



APOCALYPSE BECKONS
Yes we can confirm that Venom's classic track; 'Countess Bathory' can be heard
in the new X-Men Apocalypse movie.
We knew it wouldn't take long for the Legions to start emailing us to ask about it, as
it never takes long for their Venomous Antennae's to detect the unholy anthems.
However, Cronos did not make a guest appearance during the movie, as some of you
have claimed, but who knows what the future holds :)



ALBUM OF THE YEAR
Venom's 2015 album entitled: 'From The Very Depths' has won the best album of
the year award during a recent competition.
Visit the 'Aebyss Portal' for all the information at:
* You can also visit the Venom 'You Tube' channel to watch a video of the epic band
members: 'Cronos', 'Rage' and 'Dante' receiving their award at:
Venom would like to thank the Aebyss Portal for running this event, and also the many
many dedicated Legions who took the time to vote for Venom's album.
The band are currently in the studio working on the songs for their next album, which
could be on release by 2017. They will also be taking time out of their very busy
schedule to headline some select festivals this year.
Visit the 'concerts' webpage for more details and dates etc.



BLACK BALTIC METAL
The Legions of Lithuania will bear witness to the mighty force that is Venom on:
25 June 2016, as Venom have now confirmed that they will be headlining this
years 'Kilkim Zaibu Festival XVI'.
Venom are planning to bring their full pyrotechnics show, so their Baltic Legions
can finally 'lay down their souls'. Hell Yeah!



THE REIGN IN SPAIN
Venom are now confirmed to headline one of the stages at this years 'Primavera
Sound Festival' in Barcelona Spain on; 4th June 2016.
The Spanish Legions will be overjoyed with a second show in 2016, as are the band,
especially as this event is one of the biggest festivals in Spain, if not all of Europe,
with last year seeing nearly two hundred thousand music lovers attending the event.
That'll be seriously too Loud for the Black Metal crowd. Hell Yeah!



A FAREWELL TO BOWIE
The artistic genius David Bowie has died at the age of 69. His son reported that he
was with his family when he passed away peacefully in New York.
"I'm in shock at this news" said Cronos, "we all owe so much to Bowie, he encouraged
such audacious creative originality, and talented musical bravery.
I've lost another fellow Capricorn, but Bowie's immortal legacy will continue to inspire
and influence for eternity, he will always be the centre of it all. RIP my friend".




R&R LEGEND R.I.P.
It is a sad day for Rock n' Roll as we learn of the passing of Lemmy.
We offer our condolences and pay tribute to the man who put the 'heavy' in
heavy metal. The world will miss this icon and legend.
Cronos stated: "Lemmy was a true inspiration and a great friend. A Rock n'
Roll Legend who will be sadly missed by many. Rock In Peace mate".



UN SHOW DEL DIABLO
The mighty Venom have confirmed they will be headlining the second edition of:
"Festival Del Diablo II Open Air" in Bogotá Colombia on: 28 November 2015.
Venom would like their hardcore Latin Legions to spread the word that this
upcoming concert will definitely be:
Venom's ONLY show in South America for 2015,
Only the Official Venom Concerts Page will announce confirmed shows, so
put this link shortcut below into your favourites to check which Venom shows
are 100% confirmed, or check Martin the Venom Collector.



WHEN THE SNOW TURNS BLACK
Just when you thought Venom had finished their run of European Festivals for 2015,
we are proud to confirm that Venom will be headlining this years 'Black Christmas'
Festival in Sweden on 19 December 2015.



SPAIN SUSTAINS
Venom are returning to Spain on: 13 August 2016 to headline the Leyendas del
Rock XI Festival for the second attack.
"This is a fantastic festival" stated Dante, "We played there back in 2013 and had an
amazing show. The festival has many bands from different styles of Rock Music, which
is a great idea for fans of various generations. We are working on an awesome new set
for our Spanish Legions, stay wild".



ALL HELL TO ENGLAND
After a decade of absence from UK shores, Venom have finally announced that they will
be appearing live at the Bloodstock Open Air Festival on Friday 12th August 2016.
"BOA have invited Venom to play at their Festival in 2016, said Cronos, so let the
joyous celebrations of Hell begin, as the UK Legions bear witness to the only
legitimate force of Black Metal on this planet".
"I appreciate that a lot of British fans have been screaming for us to play the UK for
many years now, but Venom don't just play anywhere, I've been waiting for the right
event for a great show. We held out for the right event, and I'm glad we did".
Get ready to Lay Down Your Soul England.



BLACK METAL MASK
A fantastic high quality mask of 'Satan' [Staan] from the 'Black Metal' album sleeve, is
now officially licensed by Venom and currently on sale from: SikRik Masks.
[see advert below]
Cronos was personally involved in the development of the mask with Rik of SikRik Masks.
As Cronos is the artist who designed and created most of the Venom artwork, including
the original 'Black Metal' and 'Welcome To Hell' albums sleeves etc, he gave his seal of
approval to Rik's final mask design.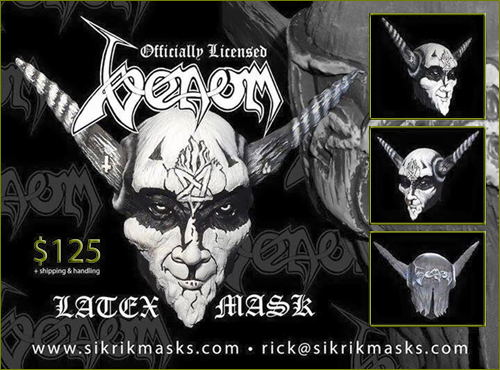 RAGE FIVE 'O'
The Summer Breeze Festival in Germany was the penultimate show on Venom's run of
2015 European summer festivals, and it was also the 50th concert by guitarist Rage with
Venom since he joined the band in 2006.
"Another great milestone", commented Rage; "2016 will be my 10th year in the band and I
can also announce that we are now officially the longest running line up of Venom, ever!
It's great to hear the fans and press alike referring to us as the Classic or Epic Venom".
"Work on the next album has already begun and the vibe in the studio is awesome,
so get ready for more killer songs and shows in 2016, as there's a lot more to come".



DEATH CALLS TWICE
Venom are all set to headline the Maryland Deathfest in 2016, for the second time.
Following calls for another show after a record turn out at Venom's 2013 show at MDF,
the band are also keen to play again as strict city curfew laws meant their set was cut
short prematurely, so Venom and the Promoter have been in talks for a return show.
The Promoter always wants everyone who attends MDF to have 100% satisfaction, and
Venom absolutely agree, the Legions deserve a full show. Hell Fucking Yeah !!!



GREAT BALLS OF FIRE
Cronos would like to thank the Legions for all their well wishes and concerns, after he
was involved in a pyrotechnics accident at the Fortarock Festival on 6th June in Holland.
He was lucky it wasn't a much more serious situation as the onstage Flame Jets were
activated, although he refused to stop the show.
Cronos would like everyone to know that he is well, and the upcoming shows at: Tons Of
Rock & Hellfest on 19th & 20th June will both be going ahead as planned.



COWBOYS FROM HELL
Venom have announced their only US date for 2015 at the: 'Fun Fun Fun Fest'
in Austin Texas on: Sunday 8th November 2015.
Cronos explained: "This show will be very special for both the band and fans alike.
Texas is one of the only states we have never played before. Crazy as that may be,
I'm told that the Texan Legions are the most dedicated Metalheads in the US, and
being the birth place of bands like Pantera, let the Mayhem begin".




VENOM AT VAGOS
Venom are playing at this years: Vagos Open Air Festival on: 8th August 2015.
This will be Venom's only show in Portugal for 2015, so the band are looking
forward to making a killer show for their Portuguese Legions.




VOTE FOR VENOM'S SET LIST
Venom are giving the Legions the opportunity to choose which songs they want
to hear live at this years: 'Tons Of Rock Festival' in Norway on: 19th June 2015.
Metal Hammer are running the voting station via their website. So get registered
and get online to cast your vote here:

~ Voting Has Closed / Thank You for Voting ~



ESCAPE TO ALCATRAZ
Venom will be returning to Belgium to appear live at this years 'Alcatraz Festival'
on: 9th August 2015.
The band had an amazing show at Torhout in 2013, where the Belgian Legions arrived
in force at the Masters @ Rock Fest. So get ready for Venom to return and burn this
place to the ground.




TO HELLAND BACK
Holland will see the return of Venom at the: 'Forta Rock Festival' on: 6th June 2015.
It has been 15 years since Venom last appeared live for the Dutch Legions, when back in
2000 the Black Metal Godz destroyed Hardenburg, but the time has come to return, and
Nijmegen will be a truly explosive event.




BLACK IN BARCELONA
Venom are confirmed to appear live at this years 'Rock Fest' Barcelona in Spain on;
25th July 2015.
The band are looking forward to returning to Spain in 2016, as Venom had an amazing
first time ever Spanish show in 2013, when they headlined the: Leyenas del Rock festival
in Alicante. The Spanish Legions packed the event and were so loud and hardcore.
The show was long overdue, but well and truly worth the wait.




METAL UNITED
Venom were nearly forced to cancel their shows on the '70000 Tons Of Metal' cruise
festival in January 2015, as their equipment was misplaced by two airlines companies.
But thankfully, some of the other musicians on the cruise offered to help out, so Venom
loaned what they needed from the band: Arch Enemy and the shows could go ahead,




STORM AT THE BREEZE
Venom will be playing live at this years 'Summer Breeze' festival in Germany on
Saturday 15th August 2015.
This will be Venom's second German show for 2015, with another celebration of
pyrotechnics and real Black Metal mayhem for all die hard Legions ~ Hell Yeah !!!




NEW ALBUM TRAX ONLINE
Venom are featuring various songs from their amazing new album online.
Their label 'Spinefarm / UMG' have released the first track as a lyric video for the song
entitled: 'Long Haired Punks', as well as other videos for the songs: 'Grinding Teeth'
and 'Smoke' which can all be seen here:

'Long Haired Punks'


'Grinding Teeth'


'Smoke'





AT SEA WITH SATAN
Venom are returning to international waters to appear live on the next edition of the:
70,000 Tons Of Metal worlds biggest cruise festival between 22 to 26 January 2015.
Venom will play their 'Entire New Album' live as a special 'World Premiere' event.
Not to be missed by any real hard core Venom fan.




ZOOMBIE BRAZIL SHAMBLES
Venom's Management have announced that Venom will not be appearing at the
Zoombie Ritual Festival in Brazil this coming 14 December 2014.
The bands Management stated: "we can empathise with the statement released by the
band Carcass about this event, as we are also still in the dark about many aspects of
this show. Our agent in South America has done everything in his power to facilitate
our requirements, but as the promoter in Brazil has not fulfilled his obligations, the
festival organisation is not suitable, and it is not possible for Venom to appear".
Venom would like to thank all their Legions in Brazil for their support, and the band
will be announcing other shows in South America in the near future.



NEW VENOM ALBUM LAUNCH CONFIRMED
The new Venom album will be released on: 26th January 2015.
FROM THE VERY DEPTHS
The album will be available through; Spinefarm Records / UMG [Spine710386]
Containing 14 new songs, and will be released on CD and Download formats.
~( Gatefold 4 x disc Vinyl Albums becoming available later )~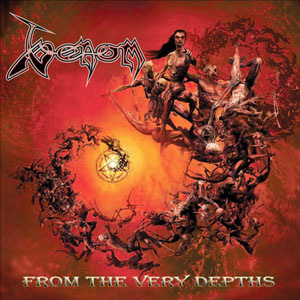 ERUPTUS
FROM THE VERY DEPTHS
THE DEATH OF ROCK N ROLL
SMOKE
TEMPTATION
LONG HAIRED PUNKS
STIGMATA SATANAS
CRUCIFIED
EVIL LAW
GRINDING TEETH
OUVERTURE
MEPHISTOPHELES
WINGS OF VALKYRIE
RISE
Spinefarm Records will also release a Single EP from the album, details coming soon.



WELCOME TO HELLFEST
After a six year wait, Venom have announced they will be returning to Hellfest in
France for a headline show on 20 June 2015.
Venom's last show at Hellfest in 2008 was amazing, and earlier this year they had
the privilege of being the first band ever to headline the brand new French Festival;
'Fall Of Summer', which was truly awesome. So the band are looking forward to
again returning to France to make a fantastic show for the Legions.




TONS OF VENOM IN NORWAY
Venom are glad to confirm that they will be appearing at next years Tons Of Rock
Festival in Norway on: 19 June 2015.
The band are planning to involve their Legions in the show, and are in talks with the
promoter to organise a truly unique event. Details to be announced soon.




LIVE IN SOUTH AMERICA
Venom have announced that they will be returning to South America in October and
December 2014 to headline a number of exclusive one-off live festival shows.
Cronos stated: "I want to make it absolutely clear to our dedicated Latin Legions, that
these are exclusive shows, so don't believe any rumours about my appearance on the
South American Metal All Stars shows, I won't be performing at any of those dates, I'll
only be playing live at the awesome exclusive headline Venom shows listed below ok,
I'll see you all soon for some real Black Metal mayhem yeaaaaah"

"confirmed festival dates"
COLOMBIA
12 October 2014 ~ Manizales Grita Rock Festival

MEXICO
25 October 2014 ~ Hell & Heaven Metal Festival

BRAZIL
14 December 2014 ~ Zoombie Ritual ~ festival cancelled




METAL HAMMER LEGEND
Cronos attended the Metal Hammer Awards in Berlin on Friday 12 September 2014
where he was nominated for the 'Legend' award.
Cronos told us: "I am truly honoured to receive this award, and it means a lot to me that
I was voted for by the readers of Metal Hammer Germany, thank you".
~ Check out the Metal Hammer Website for more info ~



GERMANY 2015 CONFIRMED
Venom have confirmed their headline appearance at next years Rock Hard Festival in
Germany on: 22nd May 2015.
The promoters of the RH Fest have been in talks with the bands management for some
time, as Venom have a very strong following in Germany, and so now the preparations
for a killer show have begun, with full pyro show, of course :)
Venom are looking forward to making a very special show for their German Legions.



CANADIAN ASSAULT
The new Venom album was put on hold for a couple of weeks while the band ventured
to Canada's largest open air festival, the Amnesia Rockfest.
Cronos explained: "Usually it's not a good idea to try out a new song on an unsuspecting
audience for many reasons, when they don't know a song it can be disastrous, but I knew
the mighty Legions wouldn't let me down".
"I wanted to create a crowd effect singing the song title of one of the new songs, so with
the Canadian concert on the cards the timing was perfect, plus I got to record over One
Hundred Thousand Legions for the new album".
"The recordings turned out perfectly, so I'm now finalising the last of the mixes and will
then be able to announcing the release date for our killer new album".

The new albums title, release schedule and other info will be released soon.



ITALY OPEN AIR LIVE
Venom have confirmed they will be headlining the open air Festival 'Faust Extreme
Festival V' on: 9 August 2014 in Pisa Italy.
This event is fantastic news for the Italian Legions who last witnessed Venom live in
2006. The band are also eager to return to Italy to play live for their hardcore followers.




FRENCH FESTIVAL LAUNCH
Venom are delighted to announce that they will be headlining a brand new event in
France called: Fall Of Summer Festival on Friday 5th September 2014.
The 2 day event [5 & 6 Sep 2014] will feature over 20 Metal Bands, and is situated
only 30km from Paris.



VENOM POSTPONE JAPAN SHOWS
The Japanese festival 'Kabuto Metal' which was scheduled to take place on 19th &
20th April 2014 has been cancelled by the promoter due to unforeseen circumstances.

However, Venom's management are now in discussions regarding the possibility of
Venom returning to Japan to play future shows.

We appreciate everyone's understanding & apologise for any inconvenience caused.



GERMAN LEGACY FEST CANCELLED
We have been informed that the 'Legacy Open Air Festival' in Germany which takes
place in June 2014 has been cancelled. No one from LOA has contacted us about this
yet, although there is a notice in German on their website.

Venom were scheduled to appear as headliners at this years festival, bringing their
entire show including full pyrotechnics display. Venom's management are hoping to
reschedule another show in Germany soon.

We urge the fans not to purchase any tickets for this event until there is more news.




CANADIAN ROCKFEST SHOW
Venom have announced their return to Canada this year to appear at the 'Amnesia
Rockfest' on: 21st June 2014. The event is held at the Montebello Marina in Quebec.

This is the 9th Edition of Amnesia Rockfest which is the largest festival in Canada,
and averages over two hundred thousand people attending. It now takes place over
two days, and hosts many different bands from a lot of different genres of music.



BRUTAL LIVE CZECH ASSAULT

Venom have confirmed the first of their 2014 European shows with an explosive headline
appearance at the Brutal Assault Festival in the Czech Republic on: 6th August 2014.

The festival takes place from 6 to 9 August 2014 with a host of bands already confirmed
for the event. Visit the festival website for more information.



STUDIO / ALBUM NEWS

Venom are back in the studio after a short period away working on video promo ideas,
the label are looking for a possible single from the new album. [awaiting title and info
etc] The band are now adding the final touches and mixing their new album.

The album is being scheduled for release through UMG [Spinefarm Records] in 2015.
[ we will bring more information and album / song titles soon ]





KERRANG ICON AWARD
Cronos was presented with the 'Icon Award' at this years Relentless Kerrang! Awards 2013.

The singer was at the annual event with other award winners such as Kerry King of Slayer, Phil
Anselmo of Pantera / Down, Brian May & Roger Taylor of Queen, and many many others.



BELGIUM ~ WHERE IT BEGAN
Venom have now confirmed they will headline the Belgian Festival Masters@Rock on
Saturday 31st August 2013.

Venom's first ever live concert outside of England was in Belgium [Poperinge] way back in 1982.
They returned again in 1984 as part of their '7 Dates of Hell' tour, and it's now been a staggering
29 years since that show, so this long awaited return will be a very special event indeed.



US LEGIONS BREAK RECORDS
Venom wish to thank all of their hardcore Legions who laid down their souls at the Maryland
Deathfest, making this years festival the biggest ever record breaking turn out in its 11
year history, Hell Yeah..... USA for Satan !!!



JEFF HANNEMAN OF SLAYER R.I.P.
We are deeply saddened to hear that our brother in Metal Jeff Hanneman of Slayer
has died, he will be sorely missed by all.

Cronos responded: "This news has come as a total shock, it's a very sad time for all who
knew Jeff. I've known him for almost 30 years from when we toured together in the 1980's,
Jeff will always be remembered as one of the originals who's contributions and dedication to
Metal will live on forever. Our deepest condolences go to his close family, his fellow band
members and all the Slayer fans worldwide".



FINLAND SHALL BURN
Venom have confirmed they will be headlining the Hammer Open Air Metal Festival
in Lieto, Finland on 20th July 2013. Venom last played live in Finland in 2010 at the
Nummirock Festival, so their welcome return will be a truly explosive event for their
hard-core Finish Legions, Hell Yeah !!!



STUDIO UPDATE
Venom are back in the studio recording for their next album.

Cronos told us: "We started writing the new songs before we'd finished mixing the last
album, we were inspired to write more songs quite naturally without any pressure, so we
started early. It means we've now got tons of great new fresh ideas for the next album".

The release timeline will be at the start of 2015.



Zombie Deathfest
Venom's artwork and design coordinator 'Sigi' has made a fitting tribute to the 'Walking
Dead', in anticipation of the bands upcoming show at the Maryland Deathfest in May 2013

Sigi made the Venom Zombie Photos using the 'Dead Yourself' App on his Android
device, so we've put them on our website for you all to see. Just a dead good laff eh.